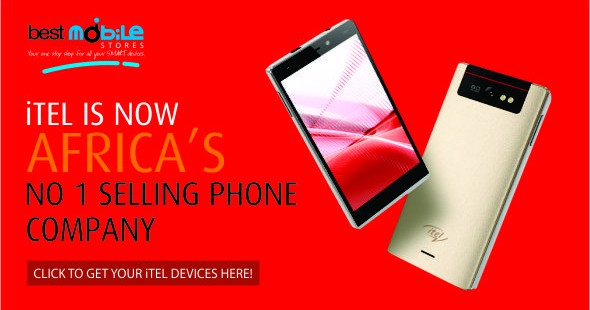 ITEL IS NOW AFRICA'S NO 1 SELLING PHONE COMPANY
The news of iTel becoming the no 1 selling phone company in Africa has left many bereft of words, seeing that most people are in love with the Samsung model, and how the Samsung mobile market is always on "fleek", and out with new trendy devices.
I personally was astonished, knowing that the likes of Infinix and Tecno are major contenders in the African phone market; so the question remains, how did iTel Phone company achieve this feat?
As at 2016, iTel had delivered over 70 million phones globally, spanning over 45 countries. Since its inception in 2007, iTel has always been a force to reckon with in the feature phone category, followed by Tecno, and Nokia. The question that comes to mind would be, 'was iTel that much of a major contender in the smartphone division?' Well, the short answer is, 'No it wasn't', as Samsung remains the biggest smartphone brand in the African continent.
How Did iTel Become Africa's No 1 Selling Phone Company? 
With major smart devices in range, and seeing that LTE phones are also in rave, one should also notice that smartphone shipment to the Nigeria market reduced considerably in 2016. Sources claim this might be due to the fluctuating value of the Naira, economic challenges, et al.
Seeing that we Nigerians are pragmatic in nature, one thing remains true to the heart – we will always sew or cut our coat per clothe. We will always go for what is within reach.
It has been nothing short of commendable; how iTel has been able to gain a functional balance on the feature phone division and yet being in a position to be termed a force in the smartphone segment.
In Africa, feature phones will always be in the lead if they are not as expensive as smartphones and this has been a major selling point for the iTel Mobile company.
Per iTel Mobile Product slogan: With the belief " simplicity is the essence of good taste", we have made every effort to craft our products to the level that they can not only be compact and sleek in appearance, but user-friendly in function. They have not only been true to their word, iTel has made devices simple with beautiful user-friendly functions. They have also made affordable devices for the African market and this we believe is key to their success.
They would continue to lead the African market as long as they continue to deliver on such distinctive cardinal points of good price, simplicity, and user-friendly functionality.
Get amazing price-friendly iTel phones and Tablets at Best Mobile Stores.